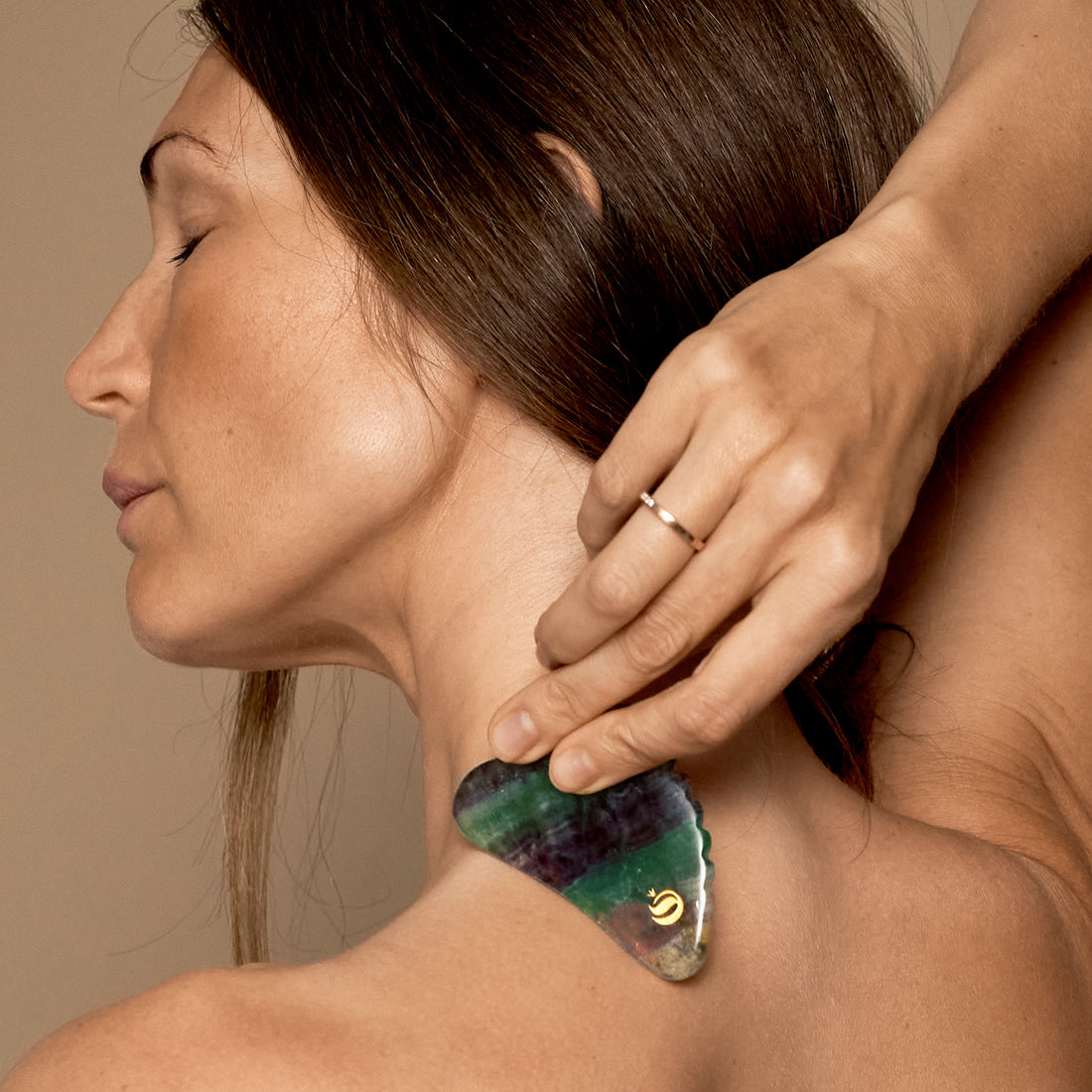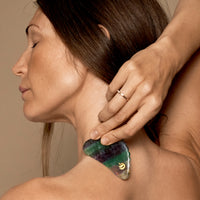 Glow Gua Sha Rainbow Fluorite (Zero Waste Edition)
At Calmlish we practise zero waste from production to post consumption and therefore we offer a zero waste edition at reduced price. Our zero zaste editions means that the crystals can have small scratches and/or colour variations.
The Glow Gua Sha is one of our newest member of our beauty tool collection and a beauty product we are particularly proud of. We have developed this gua sha shape ourselves based on many years of gua sha experience.
The Glow Gua Sha covers all the main gua sha techniques in one pretty tool. We consider it the perfect "all in one gua sha" for home diy facials. It's small, easy and super handy to use and gives you your glow back in just a few minutes.
RAINBOW FLUORITE
This Glow Gua Sha is made from rainbow fluorite which is a wild stone to work with. The crystal varies in color, ranging from purple to blue and green and in very few of them, beautiful golden brown streakes. The colors can range from dark midnight hues to delicately transparent pastels.
Write your colour wishes in the comments section in check out, and we'll do our very best to find your dream gua sha for you.
Rainbow fluorite is a cooling crystal and is used in crystal therapy for hot and inflamed skin conditions and pigmentation. Rainbow fluorite is the perfect summer crystal for sun burned skin.
Please note that all our crystals are unique and therefore there will be variations in colour, shape, structure, surface etc
Gua Sha [pronounced "gwa shaa"] is an ancient Chinese healing and beauty tool specifically designed for the face and cellulite-prone areas on the body. 
Gua means to scrape and Sha means red spots/redness. The scraping technique involves scraping the skin to release toxins, waste products, tension, and pain from the body. It is a highly effective treatment with immediate results and long-term benefits. 
- Gives the skin a youthful glow
- Hydrates from the inside out 
- Reduces wrinkles 
- Minimizes pore size 
- Evens out skin tone and boots smooth skin 
- Reduces dark circles and bags under the eyes 
- Improves muscle tone and tightens the skin 
- Removes stagnant lymphatic fluid and build up
Go to Glow Gua Sha Guide - Click here
Glow Gua Sha
1) Heart
The arch side is for relaxation of muscle tension and lymphatic drainage.
2) Textured side
Side 2 is reducing lines and wrinkles by stimulating blood flow. 
3) The end 
Side 3 is great for jaw tension and releasing tension under the eye brows.
4) The long, smooth side
The long side of the Gua Sha is for lymphatic drainage and lifting 
faceoil
It is important that you use a faceoil or a facebalm when doing your gua sha massage.
Shop Skincare
Calmlish Care
natural skincare