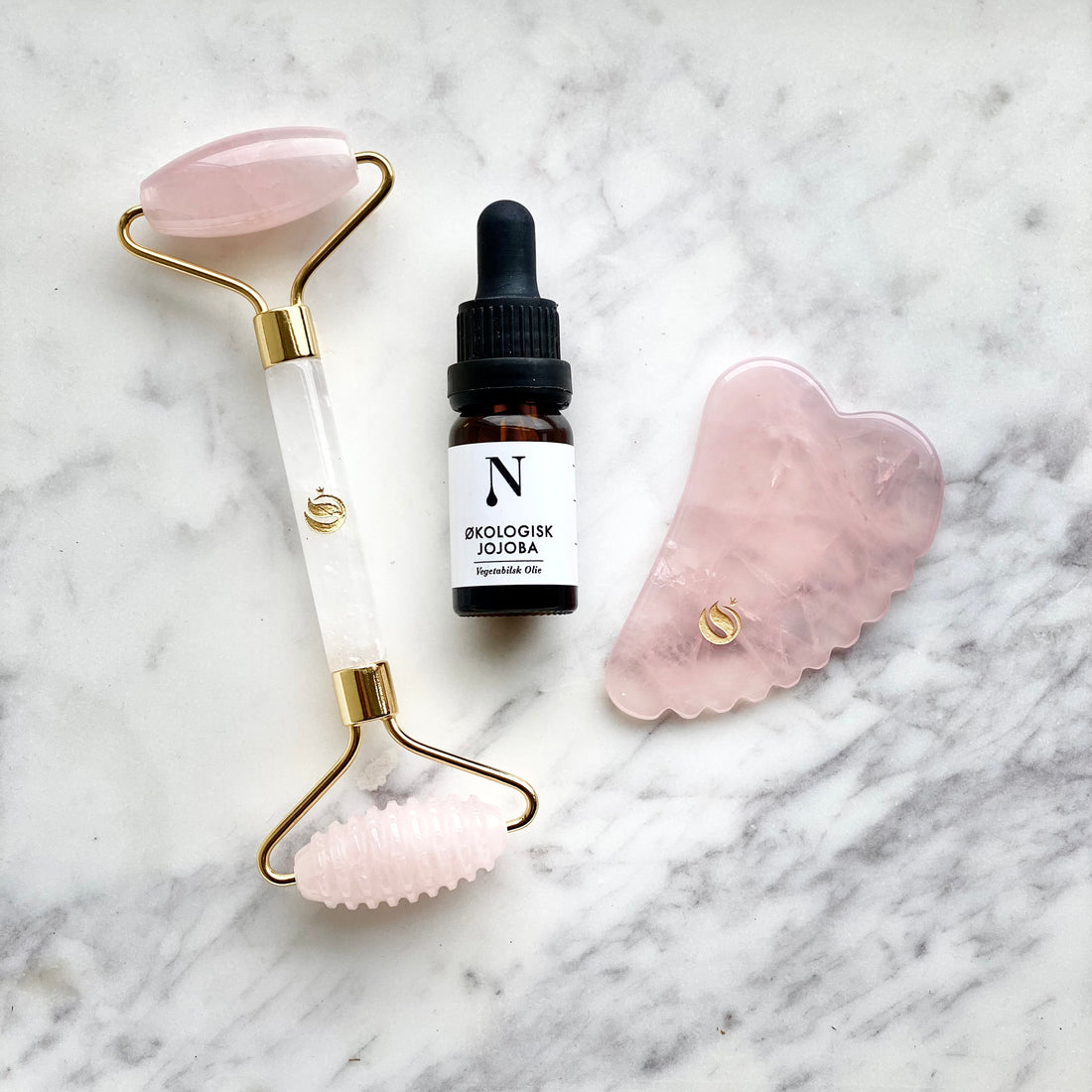 Glow and Roller Kit - Zero Waste Edition
At Calmlish we practise zero waste from production to post consumption and therefore we offer a zero waste edition at reduced price. Our zero zaste editions means that the crystals can have small scratches and/or colour variations. 
This kit contains a Lift gua sha and a flow gua sha, both in zero waste edition and a 10 ml jojoba faceoil. 
GLOW GUA SHA
Our Lift series is for the gua sha facial professional or the advantaged gua sha enthusiast. The different shapes and angles fits the different gua sha facial tutorials from our book. 
GLOW ROLLER
Our double ended Glow Rollers are designed for glow, facial muscle relaxation and lymphatic drainage.

The textured end stimulates stagnant areas and smoothes lines, uneven skintone and scarring.
The smooth crystal end cools, calms, relaxes facial muscles and drains excess fluid from the face.
The clear quartz handle "charges" the two crystal ends for extra crystal healing power.
ROSE QUARTZ
Pure love for your skin. Rose quartz is the crystal of love and self care. Rose quartz helps us love the skin that we are in, and that is the quickest (only!) way to heal any skin problem. 
Rose quartz soothes even the most sensitive, inflamed and delicate skin types with it's loving vibrations. Rose quartz affinity with the heart and circulatory system makes it an obvious ft for wise complexions looking for a youthful glow.

Please note that all our crystals are unique and therefore there will be variations in colour, shape, structure, surface etc