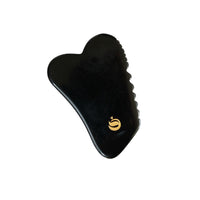 LIFT GUA SHA OBSIDIAN - LIMITED EDITION
This Lift Gua Sha in Sodalit is a Limited Edition
Our Lift series is for the gua sha facial professional or the advantaged gua sha enthusiast. The different shapes and angles fits the different gua sha facial tutorials from our book.
OBSIDIAN
Pure protection for your skin. Obsidian is a grounding pitch-black volcanic rock with protective and purifying qualities. 
Obsidian is great for stressed and overstimulated skin types and is the to-go anti-stress rock for busy city life. If your skin needs some extra protection from pollution and stimulants, then this is the rock for you.
Please note that all our crystals are unique and therefore there will be variations in colour, shape, structure, surface etc