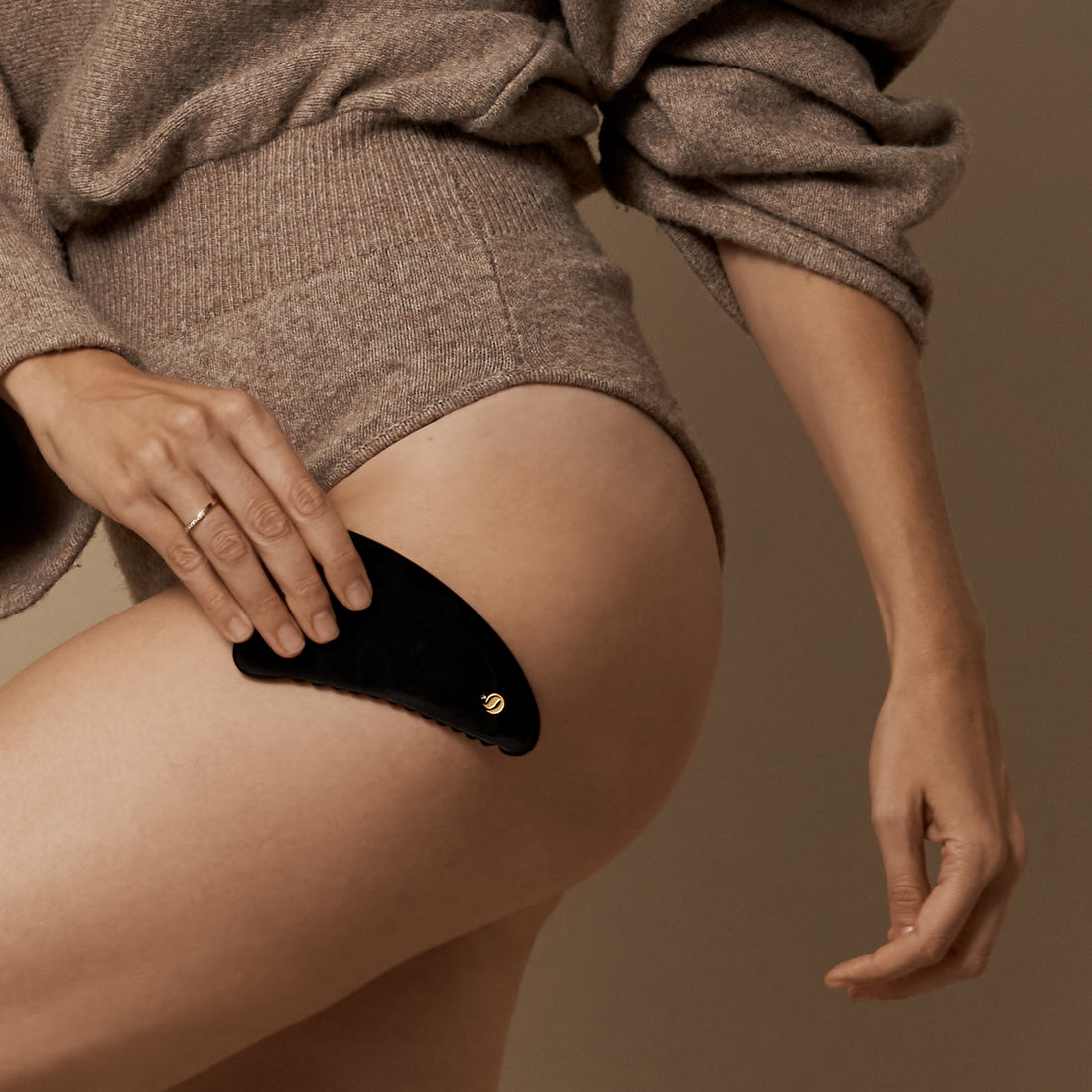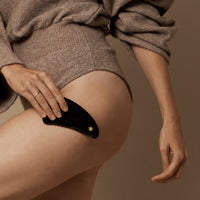 Shape body gua sha Obsidian
Our newest body gua sha in obsidian with texture designed to smooth out tangled and stiff fascia layers. Relevant for scarring, acne scars, wrinkles and cellulite. One side works on the superficial layers of fascia, one side works on the deeper layers og fascia and one side is smooth for classic gua sha massage. With this new beauty tool you get 3 treatments in one.
We have designed this gua sha tool ourselves and we hope you enjoy the results as much as we do. Every gua sha is carved by hand and due to the natural variation in the crystal, every gua sha will be unique. 
OBSIDIAN
Pure protection for your skin. Obsidian is a grounding pitch-black volcanic rock with protective and purifying qualities. 
Obsidian is great for stressed and overstimulated skin types and is the to-go anti-stress rock for busy city life. If your skin needs some extra protection from pollution and stimulants, then this is the rock for you.
Please note that all our crystals are unique and therefore there will be variations in colour, shape, structure, surface etc
Gua Sha [pronounced "gwa shaa"] is an ancient Chinese healing and beauty tool specifically designed for the face and cellulite-prone areas on the body. 
Gua means to scrape and Sha means red spots/redness. The scraping technique involves scraping the skin to release toxins, waste products, tension, and pain from the body. It is a highly effective treatment with immediate results and long-term benefits. 
- Gives the skin a youthful glow
- Hydrates from the inside out 
- Reduces wrinkles 
- Minimizes pore size 
- Evens out skin tone and boots smooth skin 
- Reduces dark circles and bags under the eyes 
- Improves muscle tone and tightens the skin 
- Removes stagnant lymphatic fluid and build up
Go to Shape Body Gua Sha Guide - Click here
Shape Body gua sha
1) Waves
Smoothes adhesions in the deeper layers of fascia.
2) Smooth side 
Used for the classic Gua Sha scraping technique and lymphatic drainage. 
3) The tip
Used for digging into bound up areas of fascia. Dig into the tissue with small up and down movements and firm pressure to release adhesions and restricted fascia. 
4) Textured side
Smoothing adhesions in the superficial fascia layer and to tighten up loose skin. 
faceoil
It is important that you use a faceoil or a facebalm when doing your gua sha massage.
Shop Skincare
Calmlish Care
natural skincare